People line up to use an ATM in St. Petersburg, Russia, /Reuters/Anton Vaganov
People line up to use an ATM in St. Petersburg, Russia, /Reuters/Anton Vaganov
Energy giant BP, global bank HSBC and the world's largest aircraft leasing company AerCap joined a growing list of companies seeking to leave Russia on Monday as Western sanctions tightened the screws on Moscow following his invasion of Ukraine.
The West has sought to punish Russia with a range of measures, including closing airspace to Russian aircraft, excluding some Russian banks from the SWIFT global financial network, and restricting Moscow's ability to deploy its $630 billion in foreign exchange reserves.
The Russian economy was already in shock on Monday. Previously, the sanctions had taken the ruble down nearly 30% to record lows. It recovered some ground after the central bank raised its main interest rate to 20%, the highest level this century, from 9.5%.
READ MORE: Talks Begin, Ruble Crashes, Russia Advances East – Ukraine Update
"The central bank today raised its benchmark rate to 20% as further sanctions triggered a significant deviation in the ruble rate and limited the central bank's options to use its gold and foreign currency reserves," said Governor Elvira Nabiullina during a press conference.
Nabiullina said Russia has an internal replacement for SWIFT that foreign counterparties can connect to, but did not give details.
She said the banking sector faces "a structural liquidity shortfall" due to high demand for cash and the central bank stands ready to support it.
"The central bank will be flexible to use all the necessary tools…banks have sufficient coverage to raise funds from the central bank," Nabiullina said.
No more US sanctions
Additionally, on Monday, the United States imposed sanctions on Russia's central bank and other key sources of wealth.
The measures, which have prevented Americans from engaging in any transactions involving the central bank, the Ministry of Finance and the Russian national fund, are likely to drive up Russian inflation, cripple its purchasing power and make lower investments.
"Our goal is for the Russian economy to shrink if President Putin decides to keep moving forward with an invasion of Ukraine, and we have the tools to keep doing that," a senior official said. of the American administration.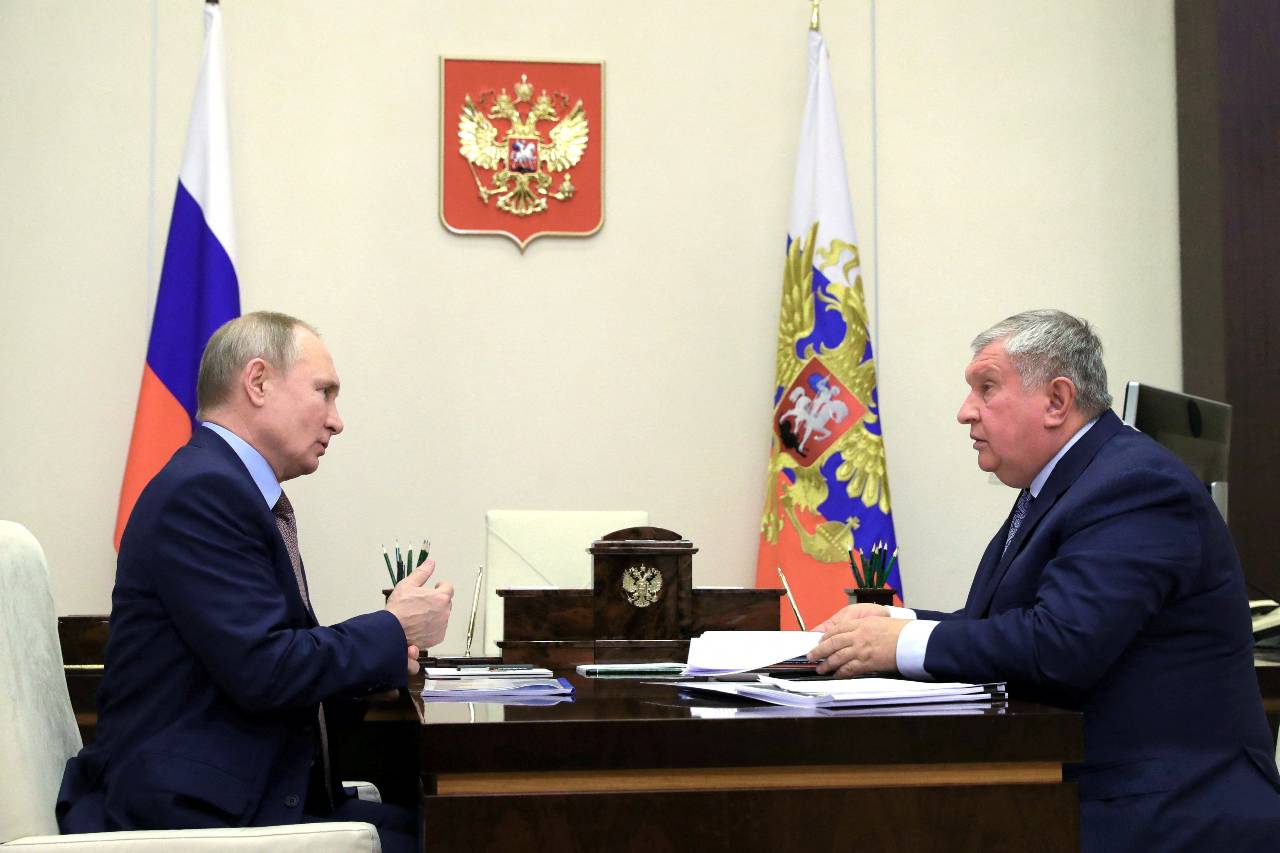 Russian President Vladimir Putin meets with CEO of oil producer Rosneft Igor Sechin. /Sputnik/Mikhail Klimentyev/Kremlin via Reuters
Russian President Vladimir Putin meets with CEO of oil producer Rosneft Igor Sechin. /Sputnik/Mikhail Klimentyev/Kremlin via Reuters
Russians lined up at ATMs on Sunday, fearing sanctions could trigger cash shortages and disrupt payments.
All banks would fulfill their obligations and the funds in their accounts are safe, Nabiullina said, although the central bank has recommended that banks restructure some customers' loans.
British oil and gas multinational BP, Russia's biggest foreign investor, abruptly announced over the weekend that it was dumping its 20% stake in state-controlled Rosneft at a cost of up to $25 billion. , halving the company's oil and gas reserves. and reduce BP production by a third.
BP's decision, following discussions with the British government, highlighted other Western companies with large stakes in Russian oil and gas projects, such as the American company ExxonMobil, the French TotalEnergies and the British Shell.
Prohibited economic zones
Much of Russia's economy will be a no-go zone for Western banks and financial firms after the decision to cut off some of its banks from SWIFT, a secure messaging system used for billions of dollars in transactions around the world.
The European branch of Sberbank, Russia's biggest lender, is at risk of bankruptcy, the European Central Bank (ECB) warned on Monday, after a run on its deposits.
Britain's HSBC bank said it was beginning to sever relations with a slew of Russian banks, including the second-largest, VTB, one of those targeted by sanctions, according to a memo seen by Reuters.
Amid mounting pressure on Russia, even neutral Switzerland said it was adopting European Union (EU) sanctions and freezing the assets of some Russian people and companies. He joined others in imposing sanctions on President Vladimir Putin and other officials.
Russia said it was banning airlines from 36 countries from its airspace, including European countries and Canada, which had previously closed their airspace to Russian planes. US officials have said Washington is considering a similar move.
Source(s): Reuters, AFP